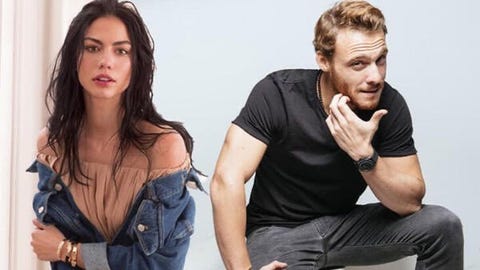 Demet Özdemir and Kerem Bürsin could be a couple
Turkish media link the protagonist of Early Bird and Serenay Sarikaya's ex-boyfriend.
The admired protagonist of Early Bird is one of the most applauded beauties on the Turkish television scene. For this reason, there are many "boyfriends" that arise for Demet Özdemir, especially since her great popularity as a result of the romantic series and her envied on-screen idyll with Can Yaman. Many followers would like to see the two protagonists as a couple in real life and, although it was rumored, it was never confirmed. Now, and after linking it with other names, it was Kerem Bürsin's turn.
He is also a successful actor and, he is known for having been a couple until a year ago with Serenay Sarikaya, another highly sought-after Turkish actress. According to the Turkish media, Demet and Kerem have met mutual friends and from there they have started to become intimate. Bürsin is a friend of the actress Elçin Sangu and her stylist, Rukay Osis, is also Demet's, as well as a great friend. On the other hand, Serenay and Özdemir are good friends.
Since separating from Serenay, Kerem - star of series like Bu Şehir Arkandan Gelecek, for which he won an award for best actor, or Muhteșem İkili-, has not been related to any other woman. However, the sweet Sanem of Early Bird has had other "boyfriends", such as Yaman Taciroglu, son of a well-known businessman linked to a clothing brand. This alleged romance was unveiled in February, but it was said that the quarantine would have come to an end.
Previously, in the summer of last year, there was talk of an idyll between Özdemir and another actor, Kaan Yildirim, although both denied it at the time.
Kerem Bürsin jokes about the rumors
A few days ago, when it had been a couple of weeks since the rumors of his courtship with Demet had been made public, Kerem made mention of them on his Instagram account, where he occasionally goes live to share a game. The actor joked about the matter downplaying it. "Next time I will draw a letter at random with a pen in a white glass, I will mark from Ç to Z," he said.
In these days of quarantine, it will be difficult to confirm whether the rumors are true or not, although some media suggest that Demet and Kerem could have been seeing despite the confinement. Many would like to see Demet together with Can Yaman, but the truth is that with Kerem Bürsin he also makes a good couple.