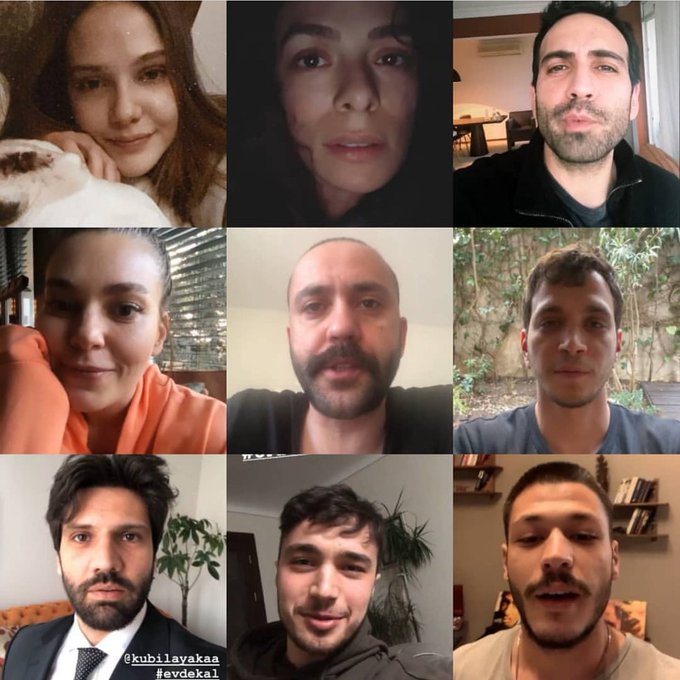 Turkish actors ask citizens not to leave home to curb coronavirus
Demet Özdemir, Can Yaman and Çaglar Ertugrul are some of the interpreters who have joined the networks to ask the Turks not to go out, with the hashtag #EvdeKal #StayAtHome.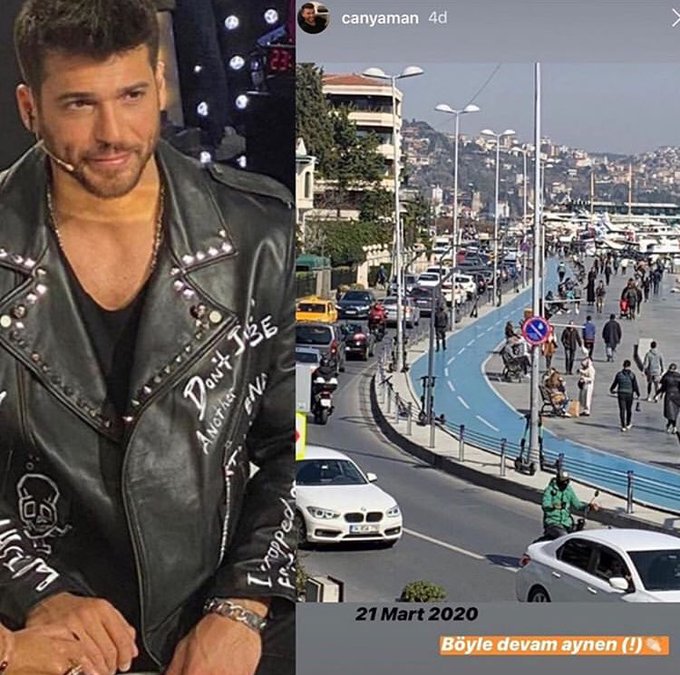 can yaman coronavirus #evdekal
Given the situation that the world affected by the coronavirus pandemic is experiencing, which in Spain, for example, has already taken the lives of more than 2,000 people and more than 33,000 infected have already been counted, the Turkish actors have wanted to do an appeal to all your compatriots. In Turkey, the 1,000 infected are already approaching and, with the experience of other countries that have lived or are living the most serious situation, such as China, Italy or our own country, the most popular artists in Turkey have not wanted to waste time and they are "shouting" at citizens through the networks "Stay home!", with the hashtag in Turkish #EvdeKal and in English, #StayAtHome. This is the case of well-known actors such as Demet Özdemir (dreamy bird), Can Yaman (obstinate love, Dolunay, dreamy bird) or Çaglar Ertugrul (Mrs. Fazilet and her daughters).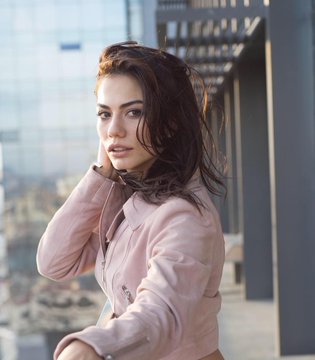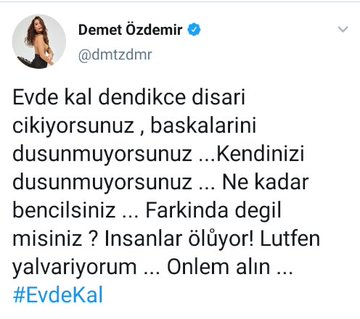 Demet and Can have been the hardest on the citizens of their country and have had no qualms about scolding them for continuing to lead, some of them, normal life. Sweet Dreamy Bird Sanem wrote: "The more we tell you to stay home, you go out! You don't think of others ... You don't think of yourself ... How selfish you are ... Don't you realize? People he's dying! I beg you please ... pay attention ... ".
For his part, Yaman, Demet's partner in the popular romantic comedy, preferred to use the ironic side and some echoed his comments on networks. The famous actor posted on his Instagram status a photo of people strolling in Istanbul along with the comment "Keep it up!" accompanied by applause. And a follower praised Can's attitude these days, since he has shared photos of him playing drums at home and setting up a makeshift gym in his living room to exercise these days.
Can Yaman has also shown solidarity in its networks with Italy and Spain, two countries that it has recently visited, and which are suffering the most from the coronavirus at the moment. The actor has praised the applause that is given every night at 8 p.m. to the toilets from the balconies of all Spanish homes, as well as some spontaneous musical performance in Italy.
Çaglar Ertugrul, Alp Navruz or Tuba Büyüküstün, among whom have echoed the campaign
Another actor who has joined the cause is Çaglar Ertugrul. On this occasion, the message he has shared is that of a nice video where he appears exercising with his arm helped by an iron with which he is smoothing his clothes. In it, he speaks to his followers and invites them to stay home to avoid the spread of COVID-19.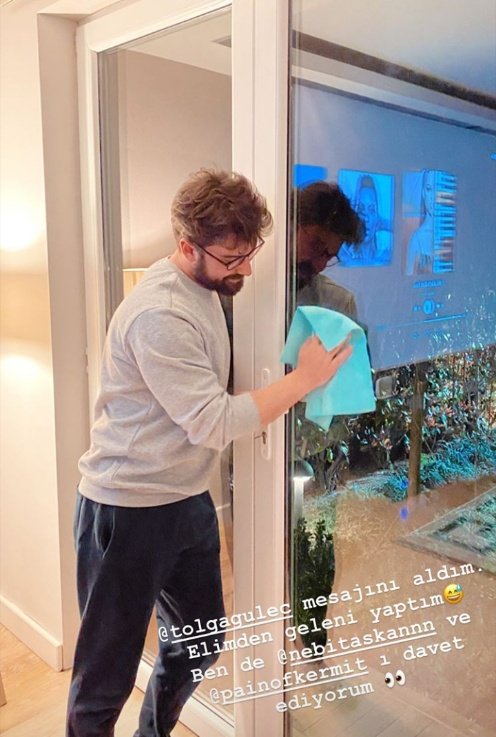 Çaglar's partner in Mrs. Fazilet and his daughters and also the protagonist of Do not let go of my hand, Alp Navruz uploaded a simple photograph to his networks where he was seen cleaning some windows accompanied by the hashtag #EvdeKal and without further comment.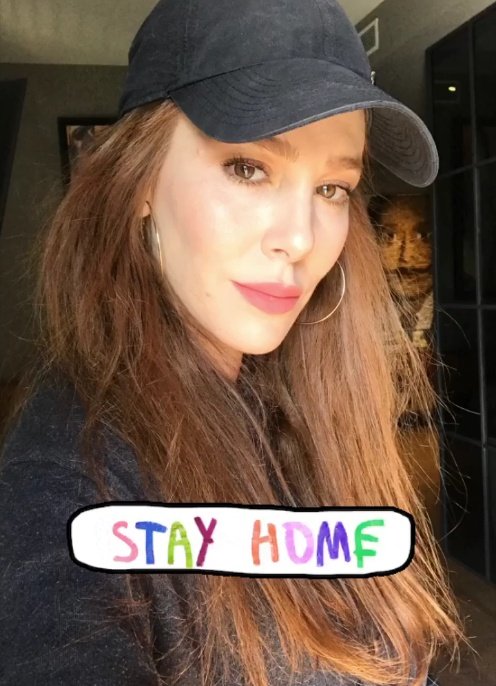 The protagonist of I rent you my love Elçin Sangu has joined the campaign with various and diverse publications. In one of them he asks for a poster with colored letters "Stay at home"; in another he shares a video where a woman appears lying on the sofa and writes "this is how we should all be".
Many other actors have collaborated in the appeal, such as Tuba Büyüküstün (Smuggled love and Sühan, revenge and love) or Baris Arduç (I rent my love to you).
Interruption of several filming
In the midst of this delicate situation, there are already some series that have stopped filming to prevent the spread of the virus and waiting for everything to go away. normalize. This is the case of the starring Alp Navruz, Zümrüdü Anka (Fénix), or the one led by Demet Özdemir and Ibrahim Çelikkol, Doğduğun Ev Kaderindir (I was born at home), which is having great success in that country.