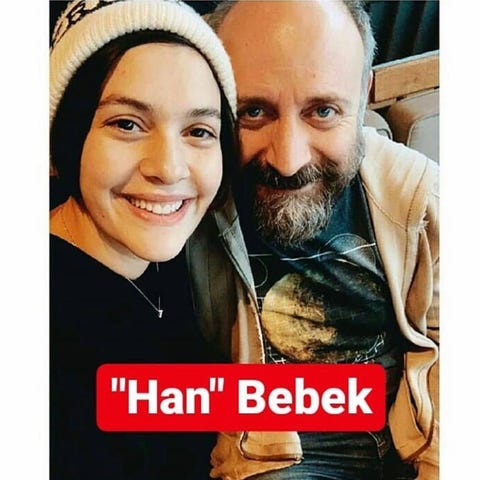 The second son of Halit Ergenç and Bergüzar Korel is born
Little Han was born on March 9 at 00:30 after a natural and uncomplicated delivery. The protagonists of The Thousand and One Nights have another son, Ali, 10 years old.
The Turkish actor couple formed by Halit Ergenç and Bergüzar Korel have already become parents for the second time. On the night of Sunday, March 8, the protagonist of The Thousand and One Nights was admitted to the hospital and at around 00:30 hours she gave birth to a man whom they have decided to call Han. She weighed 3.5 kg and measured 51 cm.
The delivery took place normally and both the mother and the baby are perfectly, as reported through social networks. The brand-new dad, Halit, who is a partner of Bergüzar also in the novel that is currently broadcast by Nova, did not separate from his wife for a moment and during the wait he shared some photos accompanied by family and friends and looking excited.
The last works of Bergüzar Korel during her pregnancy
The beautiful Sherezade has been more active than ever for the past few weeks. Her last appearance was as the protagonist in a nice diaper ad, which she recorded very few days before giving birth. It featured the actress in an advanced state of gestation at the present time, and in the same state ten years ago when she gave birth to her first child, Ali.
Shortly before that announcement, Bergüzar gave an intimate interview to a Turkish journalist, where she spoke of her pregnancies, differences, expectations and her husband. But it has not only appeared in public life with this type of incursion. Korel and Ergenç have often been seen both in their personal lives, strolling through a shopping center and responding to questions from journalists with kindness, and in some social and cultural event, such as the concert of Ajda Pekkan, a singer and actress. Turkish pop, at the Harbiye Cemil Topuzlu Theater, or the premiere of Alize, the musical by Serenay Sarikaya, both events last September.
Although Bergüzar's last work was the series My life is you, where she and Halit are again the leading couple, the acclaimed actress has continued to participate in commercials. In addition to diapers, and when she was already pregnant with Han, she embarked with her husband on a fun jewelry ad.
For his part, Halit has continued not only with advertising forays but also with recordings of his latest major television production, Babil.