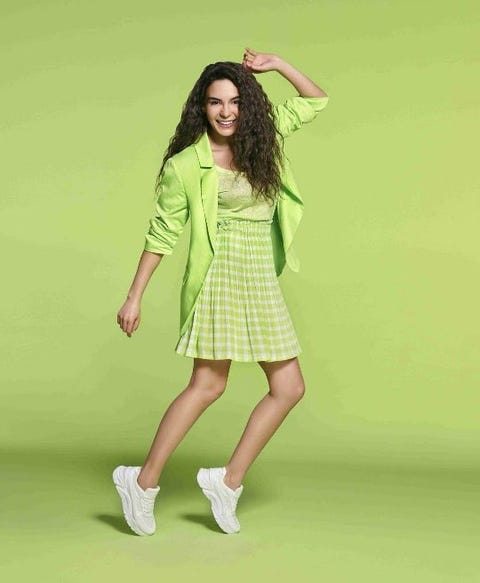 The protagonist of 'Hercai', Ebru Sahin, in a spring shoe advertisement
The suffering Reyyan of Hercai has become the image of the footwear firm Flo with two other actresses, Yağmur Tanrısevsin (Ece in Feriha's Secret) and Aslihan Güner (Dirilis: Ertugrul).
Ebru Sahin model footwear
The beautiful protagonist of Hercai, a novel that continues to triumph both on Spanish screens through Nova and on televisions in all the countries where it is broadcast, has taken a new step in his career and has become an advertising image of a well-known brand of shoes, Flo.
In the ad she is not alone. Two more actresses participate, Yağmur Tanrısevsin, whom we met for his role as Ece in The Secret of Feriha, and Aslihan Güner, unknown in Spain at the moment but also very successful in his country thanks to his participation in the historical series Dirilis: Ertugrul and his protagonists in other novels such as Kuzey Yildizi (2019) or in the films Selam: Bahara Yolculuk (2015) and Akillara Seza (2019).
Ebru Sahin and her companions, in a spring environment
The three actresses, who are some of the most promising and attractive in their country, appear in the ad wearing different models of shoes and sandals from the firm Flo. Accompanied by a lively folk music, the protagonists walk each one through a colorful and spring scene showing a modern and casual footwear, in some cases, and elegant, in others, always surrounded by a very youthful and fresh atmosphere. Ebru, Yagmur and Aslihan are a reflection of that jovial and spontaneous image that the brand wants to implement its products.
Both the clothes that look and the funds chosen are bright and bright colors, such as lemon green, orange or blue Ebru, which you saw in all the images with casual clothes, such as a cowboy jumpsuit or a summer dress; or Aslihan's bubblegum pink, more elegant with a dress and heeled sandals.
Social networks have echoed this new professional career of actresses, much admired in their country, especially Ebru and Aslihan, who have positioned themselves as protagonists in most of their latest projects. Yağmur Tanrısevsin, 29, has only been a career as an actress and has only had the opportunity to star in a series in recent years, such as Iki Yalanci. However, in his curriculum he has such successful productions as The Secret of Feriha, which earned him international recognition, or Güneşi Beklerken, which has also reached several Latin American countries.
For its part, Sahin, the best known of the three internationally, has just released a movie, Suursuz Ask (Unconscious Love), and remains linked to the Hercai series, which has announced its third season. Soon the recordings will begin again, since the premiere is scheduled for September in Turkey. Meanwhile, the first part has just finished in Spain and the second begins next Sunday.