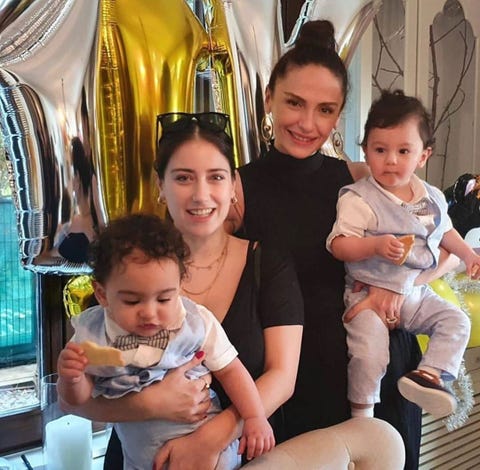 Sinem Uslu, Jasmine from 'I rent you my love' celebrates her twins' birthday
The villain in the novel starring Elçin Sangu and Baris Arduç was the mother of Mustafa and Kemal a year ago and has celebrated it as a family and with her friend, Turkish actress Hazal Kaya.
Sinem uslu birthday cufflinks with hazal kaya
The evil Jasmine from I rent you my love recognized in a recent interview with our magazine, Telenovela, that she lives dedicated to her twins. And so we have been able to see it recently on the occasion of the first birthday of Mustafa and Kemal, on March 11. Sinem Uslu hosted a colorful party with her husband, producer Mustafa Uslu, and many friends, including the popular Turkish actress Hazal Kaya, who has recently premiered as a mother.
"My Mustafa ... My Kemal ... You lit up my life. My little miracles ... Happy birthday," wrote the actress on her Instagram. The twins, who were dressed identically in light blue vest and pants, white shirt and navy blue boat shoes, enjoyed themselves in the middle of a festive atmosphere and surrounded by large gold and silver balloons and some others with the faces of popular children's characters. A table full of sweets and sweets presided over the venue. Later, Sinem shared a photo in her living room, where she was seen playing with one of the twins on her shoulders while a friend did the same with the other. Accompanying the comment: "And at the end of the day ...".
"I will resume my career later, now I want to raise my children"
As she confessed in our recent interview, her dedication is total towards her children at the moment: "I want to raise them myself, especially the first years." He acknowledges that his profession "is difficult to reconcile with motherhood", that is why he plans to resume his career "later and with adequate hours". He assures that: "I would love it to be with a movie".