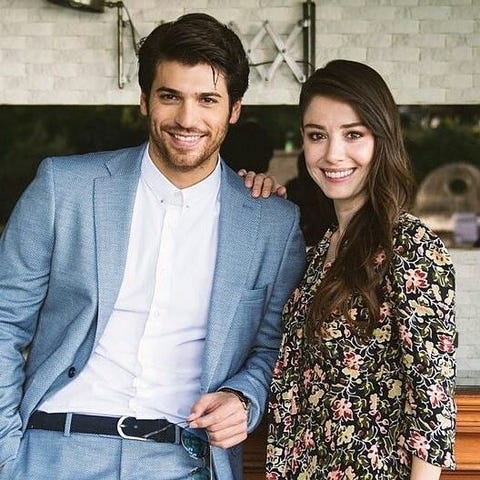 Can Yaman and Özge Gürel star in a new romantic comedy
The Turkish actors, who were already a couple in Dolunay, meet again in the series Bay Yanlin (Mr. Wrong), which will premiere in summer in Turkey and has the team of Erkenci Kus.
Can Yaman Ozge Gurel
A little over a month ago, Can Yaman finished his military service, for which his hair and beard had to be shaved. He already announced at the time that he would try to make that new look work for new projects. And so it will be, because the successful Turkish heartthrob already has a new series agreed, which will be screened in the summer. The other great news is that his co-star will be Özge Gürel, with whom he has already teamed up in Dolunay with great success and acceptance by the public.
In addition, the new series, which will be titled Bay Yanlin (Mr. Wrong) and is produced by Gold Film, has the same team as Erkenci Kus (Early Bird), so a new Turkish success is predicted. The script will be written by Aslı Zengin (from Erkenci Kus) and will be a romantic comedy. So far only these data have been confirmed, it is unknown who the other actors in the cast will be or when the recordings will begin, although it will probably be soon since the series will be presented in the Turkish summer.
Dolunay, the novel that brought Can Yaman and Özge Gürel together
Dolunay (Full Moon) first brought Can Yaman and Özge Gürel together in 2017. It was also a romantic comedy, just like Early Bird -where we met Can with Demet Özdemir-, in which a young cooker, Nazli, starts working in the house of a rich and somewhat lonely man, Ferit, with the only instruction to go to cook in the hours in which he is not. But finally the inevitable happens: they meet and fall in love.
Can Yaman new series with Ozge Gurel
The style of romantic comedies of love and without an iota of violence is so far the one that Can Yaman prefers to choose. Contrary to his other television partner, Demet Özdemir, who has decided to opt for a drama, along with Ibrahim Çelikkol, to try new records. There were many doubts about the acclaimed Turkish man's next project, who visited Spain just before embarking on military service, but a series had been discussed with producer Faruk Turgut, who is still on the air for now.
For his part, Özge Gürel is positioning herself as one of the most promising and sought-after actresses on the Turkish scene. Currently we see her starring, along with her real-life boyfriend, Serkan Çayoglu, but at 33 years old and with only a 10-year career she has already led the main cast of most of the eight novels and five films in which has worked.
Her last film premiere, Annem, which took place last September in Turkey, has already become part of the Netflix catalog. And just a week ago it was announced that she will be starring in another movie Kar Kirmizi (Red Snow). The beautiful actress has worked with some big names in Turkish television apart from Can Yaman, Ibrahim Çelikkol and Kerem Bürsin with whom she shared the limelight in the last series she recorded, in 2018, Muhteşem İkili (The perfect duo).